Main > Hair Styles > Ponytails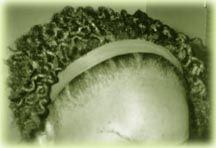 This is a great style for special occasions!
What you need: your favorite hair oil and your fingers.
Good for: all types of hair. May work best on medium hair. For short hair, 2 or even 3-layer flat twists can be done to achieve this style.
Requirement: hair must be in dried flat twists before this style can be achieved!

Rub your hair oil up and down your flat twists. This will give your hair shine when the flat twists are unraveled.

Use your fingers to carefully separate the flat twists from end to scalp. It's important to take your time taking out your flat twists in order not to accidentally "fluff up" or separate the ringlets of twisted hair.

Once all twists are separated, carefully position the twists where you want them to lay. Lightly racking your fingers through the twists to move them around helps.

At this point, your done! If you want your twists away from your face, you can always push a hairband over the front of the hair.